GPR: 2021 - Week 06
From MGH Learn Pathology
Clinical history
55-year-old man with PMHx of alcoholism, smoking, and diabetes. He presented with 3-4 weeks of shortness of breath and lower extremity edema.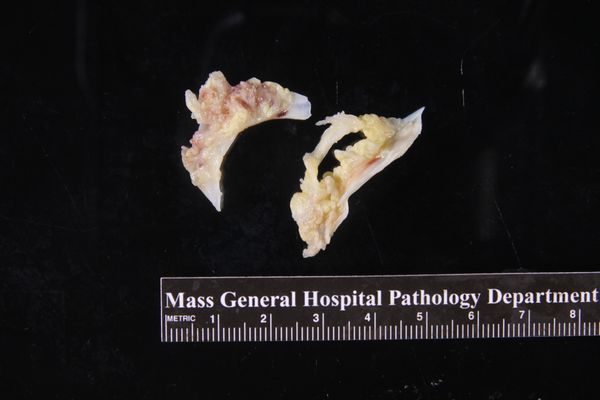 Registered users must be logged in to access the interactive quiz.
 

Infective endocarditis


Vegetations are fleshy, soft, clot-like, and friable
Can have valve abscess and rupture
Complications: septic emboli and infarcts (brain, spleen, kidneys, liver), mycotic (pseudo) aneurysms, post-infectious glomerulonephritis
Causative organisms: Staphylococcus aureus (31%), Viridans streptococci (17%)
Risk factors: intravenous drug abuse, indwelling catheter, hemodialysis, dental procedure

 



 

Calcific degeneration


Nodular calcifications located near base of cusps
Leaflet thickening, fibrosis, and retraction
Obstruction to cardiac outflow (aortic stenosis)
Degenerative process
Risk factors: older age, congenital abnormality (bicuspid valve), hypertension, elevated serum low-density lipoprotein, renal dysfunction, abnormalities in calcium/phosphate metabolism

 



 

Myxomatous degeneration of aortic valve


No masses or vegetations
Valve leaflets appear gelatinous
Disruption of valve fibrosa and replacement by acid mucopolysaccharides and cystic change
Most frequently affects mitral valve (69%); aortic valve involvement in 34%; tricuspid valve involvement in 5%
Risk factors: older age, hypertension, coronary artery disease

 
Infective endocarditis <https://app.expertpath.com/document/infective-endocarditis/c2411742-239e-44f7-9792-0d4afb25bf4a>
Calcific aortic valve disease <https://app.expertpath.com/document/senile-calcific-aortic-stenosis/5a5c8fa4-e84e-4315-b0c1-1fb943679e33>
Allen WM, Matloff JM, Fishbein MC. Myxoid degeneration of the aortic valve and isolated severe aortic regurgitation. Am J Cardiol. 1985 Feb 1;55(4):439-44. doi: 10.1016/0002-9149(85)90390-x. PMID: 3969882.
He Y, Guo Y, Li Z, Chen J, Kontos MC, Paulsen WH, Han J, Wang L, Gu X, Nixon JV. Echocardiographic determination of the prevalence of primary myxomatous degeneration of the cardiac valves. J Am Soc Echocardiogr. 2011 Apr;24(4):399-404. doi: 10.1016/j.echo.2011.01.001. Epub 2011 Feb 24. PMID: 21353473.
---
This week's Gross Pathology Roundup was presented by Lisa Yuen MD, PhD on 2021-02-08.