GPR: 2021 - Week 04
From MGH Learn Pathology
Clinical history
You receive a page about a 50yo previously healthy woman sent to the ED from her PCP for anemia (Hct 20%), thrombocytopenia (20k/uL), and elevated LDH with schistocytes on peripheral smear. On examination, you notice slurred speech and word finding difficulty (new per husband), and see the pictured (palpable) rash.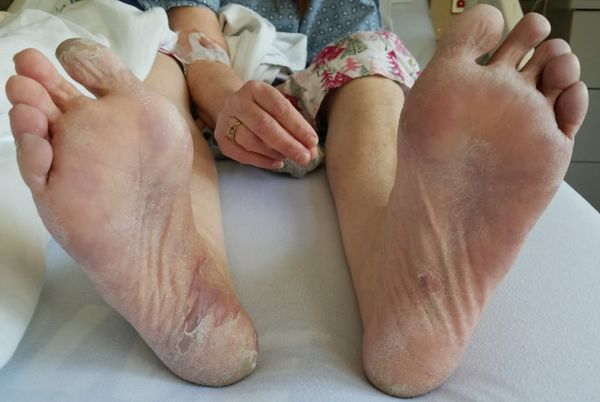 Registered users must be logged in to access the interactive quiz.



 

TTP Mechanism


rare type of thrombotic microangiopathy caused by acquired or congenital deficiency of ADAMTS13
results in uncontrolled formation of von Willebrand factor-rich platelet thrombi, end-organ dysfunction, and death
temporize with plasma transfusion (draw ADAMTS13 lab first if possible)
emergent plasma exchange with donor plasma
typically daily exchange until platelets > 150k/uL for two consecutive days
platelet transfusion is contraindicated - increased arterial thrombosis, acute MI, and death

 



 

PLASMIC score


many other causes of thrombotic microangiopathy (HUS, DIC, malignant hypertension, etc.)
must act before have ADAMTS13 results (send out lab)
PLASMIC score helps stratify risk of TMA due to ADAMTS13 deficiency
AUC 0.95 [0.91-0.98] in the internal validation cohort and 0.91 [0.85-0.95] in external validation cohort

 
Goel R, Ness PM, Takemoto CM, Krishnamurti L, King KE, Tobian AA. Platelet transfusions in platelet consumptive disorders are associated with arterial thrombosis and in-hospital mortality. Blood. 2015;125(9):1470-1476. doi:10.1182/blood-2014-10-605493
Bendapudi PK, Hurwitz S, Fry A, Marques MB, Waldo SW, Li A, Sun L, Upadhyay V, Hamdan A, Brunner AM, Gansner JM, Viswanathan S, Kaufman RM, Uhl L, Stowell CP, Dzik WH, Makar RS. Derivation and external validation of the PLASMIC score for rapid assessment of adults with thrombotic microangiopathies: a cohort study. Lancet Haematol. 2017 Apr;4(4):e157-e164. doi: 10.1016/S2352-3026(17)30026-1. Epub 2017 Mar 2. PMID: 28259520.
Moake JL. Thrombotic microangiopathies. N Engl J Med. 2002 Aug 22;347(8):589-600. doi: 10.1056/NEJMra020528. PMID: 12192020.
---
This week's Gross Pathology Roundup was presented by Sarah Mueller MD, PhD on 2021-01-25.