GPR: 2021 - Week 17
From MGH Learn Pathology
Clinical history
42 year old female with 31 cm complex pelvic mass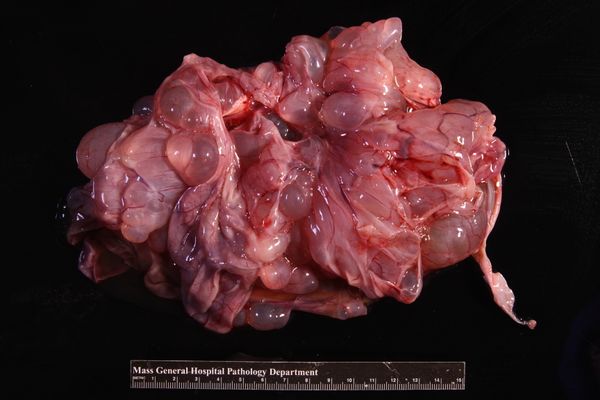 Registered users must be logged in to access the interactive quiz.
 

Mucinous cystadenoma


Benign mucinous neoplasm (accounts for ~80% of mucinous ovarian neoplasms).
Can reach very large sizes, occasionally larger than 30 cm.
Composed of either unilocular or multilocular smooth lined cysts filled with thick, tenacious fluid.
Important to open all cystic compartments to ensure no complex, solid areas are present.

 
Dr. Ester Oliva
Dr. Melanie Kwan
Dr. Smiljana Spasic
Nucci, Marisa R, & Oliva, Esther. (2009). Gynecologic Pathology. Edinburgh: Elsevier.
---
This week's Gross Pathology Roundup was presented by Liana Bonanno, MD, PhD on Mon, Apr 26, 2021.